Modbus TCP/IP Radio Modem
Modbus TCP/IP Radio Modem
Modbus TCP/IP Radio Modem is a TCP/IP series radio modem in compliance with CE standards with 32 bit speed processor, 512 byte buffer support, high air data rate up to 70 kbps, continuous data transfer feature, strong communication distance, addressable and 256 frequency channels.
Its basic features are the ability to create an RF network over modems with output power in European standards. In addition, modems with dozens of different parameters are in industrial class. It is one of the main reasons why its stable operation is preferred over competing technologies, it is produced using industrial electronic components.
Modbus TCP/IP Radio Modem features reverse voltage, overload protection and emc protection for antenna. All controlled by settings with configurable parameters. Allows you to do half duplex data communication. Air communication distance reaches up to 5 Km. "open are point to point"
Modbus TCP/IP Radio Modem offers good energy usage performance. under 24V DC voltage; 10mA at listening. The highest level of sending is 170 mA. With watchdog hardware and software, the modem restarts in case of any error and does not lose the set parameters.
Modbus TCP/IP Radio Modem, RF output power can be adjusted between 0.1W-1W. All technical parameters meet European industrial standards. Temperature stabilizers improve frequency stability better than ±2ppm.
Working temperature range: -40℃~+85℃, it is real industrial grade model. It has aluminum alloy casing, compact size, good heat dissipation, electromagnetic compatibility and strong anti-interference protection.
Modbus TCP/IP Radio Modem operates in the voltage range of 10-28V DC. In addition, you do not need to pay the antenna cost. It is a set with 3 m RG-58 cable and gain antenna with connector, suitable for 6 dbi outdoor unit installation. It establishes a connection via Ethernet. Supports TCP/IP, UDP, ARP, ICMP, IPV4 protocols. After production, additional protection is provided for dust, humidity and climatic conditions with chemical spray.
Multiple and optional broadcast modes support all your needs with different connection connectors. DelcomRF Modbus TCP/IP Radio Modem makes data-data communication over UHF or VHF band. It has multiple frequency band channels.
Modbus TCP/IP Radio Modem is suitable for Ethernet PLC-PLC communication, PLC-machine and CPU-to-CPU communications. It can be used in SCADA monitoring systems. It offers low price and high performance. It has high data security. It provides trouble-free service. DelcomRF Inc. It is offered to your service with guarantee.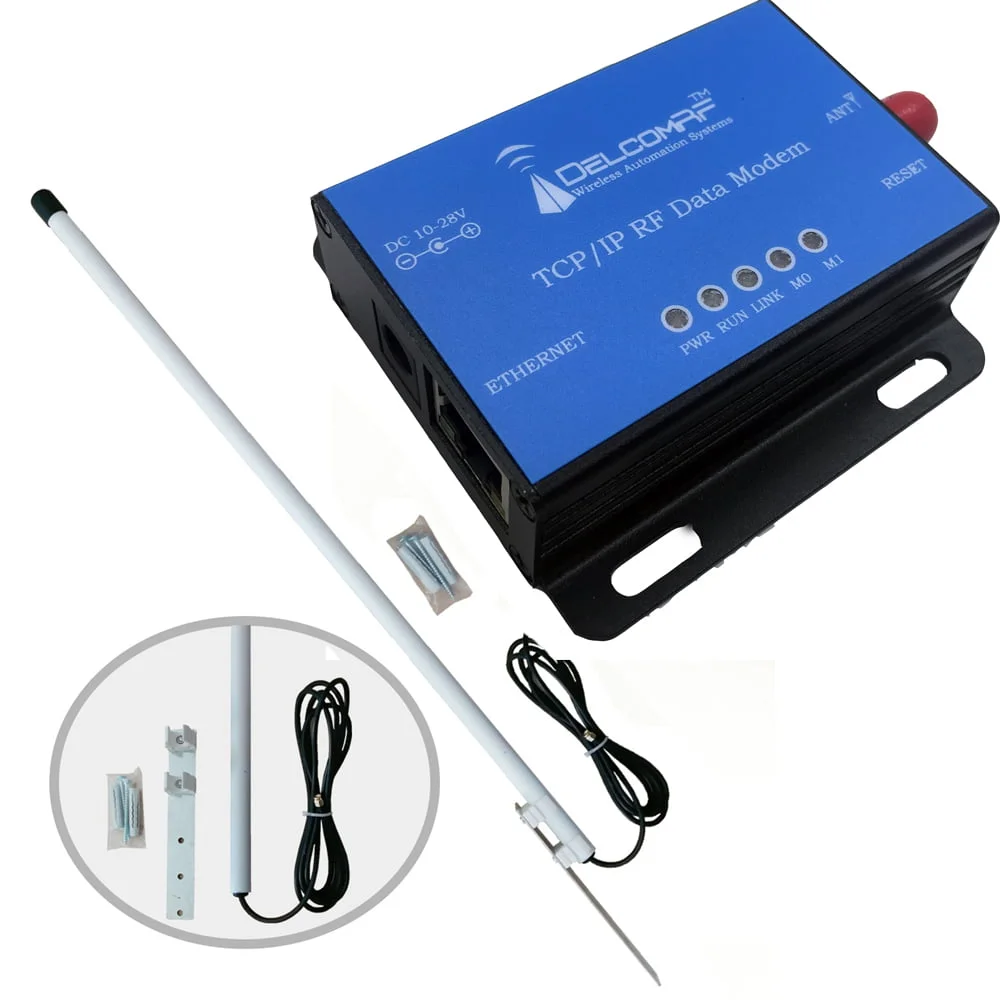 Maybe these are what you need;
CLICK to view the PPWM Transparent RF Radio Modem model!
CLICK to review TCP/IP 4G Router Modem model!
Wireless Modem Application Areas
Ethernet PLC and SCADA Applications
Wind Energy Systems
Telemetry Ethernet Applications
Oil Gas Refineries Wireless Communications
Industrial Automation Systems
Computer Aided SCADA Wireless Communication
Wireless Ethernet Data-Data Communication Systems
Wireless Irrigation and Monitoring Systems Automation
Wireless Analog and Digital Data Transfer