PumpMatic Tank-Pump Wireless Control System
PumpMatic Tank-Pump Wireless Control System
PumpMatic Tank-Pump Wireless Control System, it can communicate wirelessly up to 20 km between the pump and the water tank. It uses LoRa communication technology. It provides controlled and automatic water tank filling. It does not need PLC or CPU for this automation. All control software is embedded and ready in hardware.
Industrial grade product works between -40 and +85 degrees. It is far superior to its competitors with its technical parameters and quality. The products are a set, plug and play automation system. It controls 2 water tanks and 2 pump units with a single set. You can use either a float or an immersion level sensor. All settings can be made on the product.
PumpMatic Tank-Pump Wireless Control System
PumpMatic Tank-Pump Wireless Control System, it consists of a water tank and a pump unit. The devices are suitable for indoor unit installation. RG58 wired antennas with 6 dbi gain are suitable for outdoor unit installation. There are 2 liquid level relay inlets or float inlets on the tank side. There are 2 relay outputs on the pump side. Pump contactors are driven by changing phase from relay outputs. To benefit from our free project service, you can reach us by sending an e-mail to [email protected].
PumpMatic Tank-Pump Wireless Control System, our products are in 2 options, with or without energy on the water tank side. For places where there is no energy on the storage side, energy is provided by a 3.7V 10A battery. When the float distance is kept 2 meters, the battery provides you with energy service for 2 years without interruption.
Wireless communication is two-sided. Communication is achieved by making approved communication. They provide the energy saving mode automatically. If the communication distance is short, they automatically reduce the RF output power. This extends the battery life of battery-operated water tank units. There is an information panel where you can get information about all technical details on the device. You can also perform control and management operations on each device itself.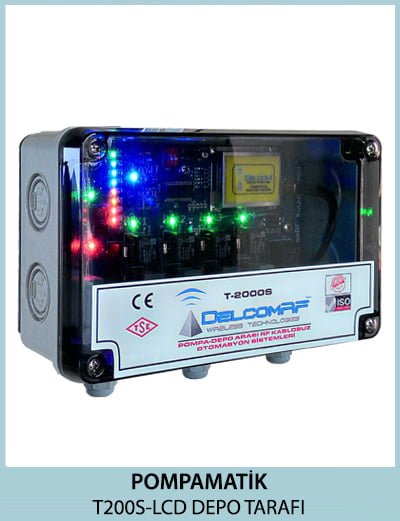 PumpMatic Tank-Pump Wireless Control System has IP67 class protection with a transparent cover so that you can monitor system status and display information. PVC protection boxes are suitable for surface mounting on 2 mm galvanized sheets. The hair is 2 cm cambered. Galvanized part, stainless. The device does not lean against the wall, so it is protected from the flow etc. that may come from the wall. It has a record output for cable connections. PVC boxes have a certain degree of impact resistance class.
The dimensions of the control units are 11×18 cm, the length of the antennas is 80 cm. The cables of the antennas are 2.5 meters. SMA connection connectors are nailed on the cable ends. It's up to you to take it and use it.
Maybe you need this: Water Tank-Pump GSM Based Remote Control CLICK HERE!
Pumpmatic, Remote pump Control, wireless water automation, wireless deep well pump tank control, wireless water control, wireless tank control automation, rf well tank control, 10 km automatic tank pump automation, tank pump signaling system, well tank level monitoring control, well depot water automation, water tank automation, rf link device, well depot link system, rf link system, cheap pump control, pump control control, wireless water automation, wireless control submersible pump