RF Remote IO Control Set Devices
RF Remote IO Control Set Devices
RF Wireless Remote IO Control Devices are suitable for in-panel rail type and surface mounting. There are 1xUSB, 1xRS485 communication ports on the device. It has 6 digital inputs with 3 KV RMS isolation, 2 relay outputs, 4 analog inputs, and 2 analog outputs. These features can be enabled optionally. Different working scenarios can be created. Email [email protected] for your project.
RF Wireless Remote IO Control Devices working by considering the master-slave feature, this set provides IO transfer between each other with 2 channel inputs and 2 channel relay outputs in each of the products. RF Wireless Remote IO Control Devices is a SET consisting of 2 products. They provide 1Km-5Km communication between each other. "Applicable in case of optical sight with external type antennas" The relay outputs of the devices can operate in switch or button position. Inputs are suit able for sinking connection. Slva unit query time can be adjusted. In addition, the products have multi repeater feature.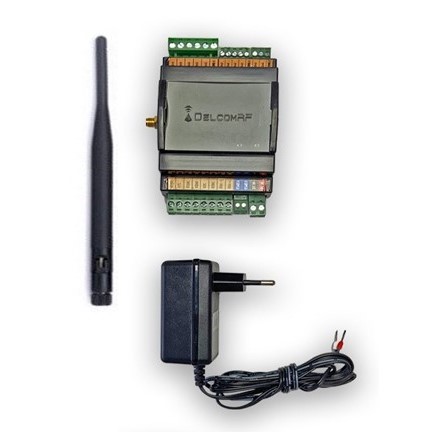 In addition to RF Wireless Remote IO Control Systems, 3db rubber antennas are provided free of charge. Also included are power adapters. The products can be preferred with higher gain magnetic type or omni outdoor unit RF cable antenna options as seen in the promotional pictures. The product is suitable for industrial DC operating voltages.
RF Wireless Automation Systems Between Water Tank and Pump. RF Wireless I/O "Analog and Digital" Transmission Systems.RF Wireless Communication Systems. You can use it as a communication and information communication option such as Pano Alarm Notification Systems. Please for your projects and questions from [email protected]