Water Level Indicator With SMS And Call Alert
Water Level Indicator With SMS And Call Alert
It informs you about the overflow, overflow and critical level situations in the water tank by SMS or phone call. It also allows you to receive and monitor information in cm about the water or liquid tank level.
It also notifies you in case of overflow and flooding in your home and workplace.
You do not need to install another alarm system. It informs you about the alarm information by talking to you via sms "up to 10 numbers" or phone call via GSM. It works with postpaid and prepaid lines. HIZIR systems have been manufactured by our company since 2014 with the assurance of DelcomRF Inc.
Water Level Indicator With SMS And Call Alert
Water Level Indicator With SMS And Call Alert, you don't need to be content with the information about the device! In addition to receiving information, HIZIR systems offer you the opportunity to turn on/off your devices with relay outputs. It is suitable for wall and in-panel rail type mounting.
It hosts and actively supports both. Need a low price and hassle-free product? This is the product you are looking for, HIZIR "mean does the job very fast" control and information automation systems via GSM.
Water Level Indicator With SMS And Call Alert, you can add a separate explanation for each channel, after each function you want to do, it will reply you with an SMS about whether it fulfills the function or not. For example: It can transmit information such as where it is installed, alarm information coming to the channel input, the value coming to the analog sensor input.
if any, to the required 10 personnel. It does not need any program it does not need an additional mobile phone or a GSM communication device connection. HIZIR systems become usable by inserting a SIM card into the device.
Liquid Level Monitoring GSM Controller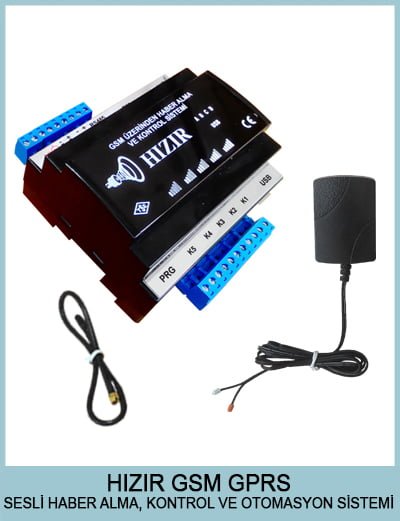 Liquid Level Monitoring GSM Controller, you can use HIZIR products in fire pump controls, earthquake, impact, pressure systems, agricultural irrigation pumps, solar energy panel fields, ventilation fan systems, telemetry applications, water tank level control and information systems.
For questions you want to ask, please contact +90-850-360-8080 or by e-mail at [email protected]
If you need an automation system that works with gsm between the water tank and the pump, PompStart is the most suitable product for you. CLICK to review!
Click here to view the model that communicates between the RF pump and the tank without using a sim card! 
Water Level Control, Gsm Alarm Device, GSM SMS Controller, 2G SMS Alarm System, Gsm Water Alarm, Water Level Indicator With SMS And Call Alert, 3 Float Input, Submersible Pressure Sensor Input, 2 Relay Output wih SMS or Call Alarm Systems