Wireless Control Unit For Pumped Water Tank
Wireless Control Unit For Pumped Water Tank
Wireless Control Unit For Pumped Water Tank compatible with PumpMatic systems. It is used to manage the intermediate water collection tank and the pump, which is between the point where the water is first pumped and the last tank where the water is collected. It creates a 3-system wireless communication between the main tank – the pumping station – the pump. The main pump first pumps the water to the pumping station.
The pumping station pumps the water into the main tank. It provides wireless automation with signals that activate the pump according to the water requirement of each tank. It is in an IP67 class protection box like PumpMatic systems. The boxes are mounted on galvanized sheet metal. It is suitable for surface mounting. It allows you to make cable connections over IP68 class connectors. The pumped station controller allows you to control and monitor the level of communication between the main pump and the main tank.
Wireless Control Unit For Pumped Water Tank
Wireless Control Unit For Pumped Water Tank system of the pumping unit is designed to be used in the pumping water tanks between the pump and the main water tank. It activates and deactivates the pump motor in the water well by sending wireless signals according to the water requirement of the pumping tank. Thus, it keeps the occupancy level of its own warehouse under control. If the main water tank is in need of water, it runs its own pump motor and sends the water in the tank to the main tank.
Wireless Control Unit For Pumped Water Tank system is provides easy use, easy assembly, economical solution and fast results. You can use the HIZIR system, which allows you to get information by calling you from your phone, in cases such as thermic breakdown at the pump points, there is no phase, there is an entrance to the pump building, there is a low water level in the well.
CLICK to view the HIZIR GSM VOICE CALLER system!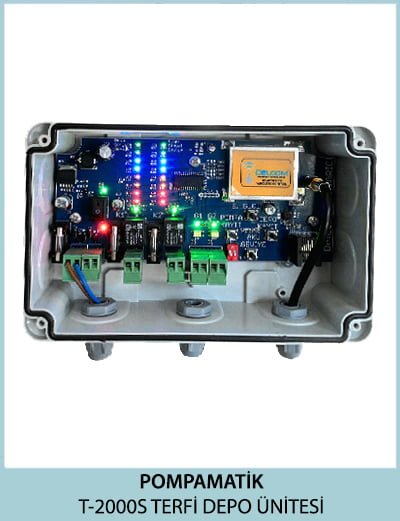 The working status of the water tank lifting unit can be easily monitored without opening the ABS class (shock resistant up to a certain severity) protection box, which has IP65 protection with a transparent cover.
Its antenna is in IP67 protection class suitable for outdoor unit installation. Thanks to its RF communication signal level RSSI feature, it helps you to install the antenna in the right place.
PumpMatic lifting unit, which is easy to use and install, is like a mixture of pump unit and storage unit. The booster has 2 channels of pump contactor outputs and 2 channels of float or liquid level relay inputs.
Boosted Water Tank Automation, Boosting Tank Automation, Boosting Tank Control, Wireless Boosted Control